PsyTech is home to veteran Mother-Daughter paranormal investigation team. Starr and Jessi Chaney. We feel it is a great responsibility to uphold the reputation of ghost hunters everywhere, and we believe that consideration and respect for both the living and the dead are essential in ghost hunting and the field of paranormal research and investigation. PsyTech is a proud member of the ParaHaunt Paranormal Family Network.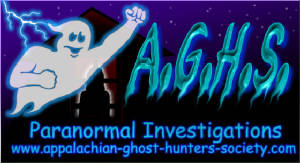 The Appalachian Ghost Hunters Society Team
are dedicated to performing Paranormal Investigations in a Confidential and Professional manner. They are located in West Liberty, Kentucky and are all committed to Absolute Confidentiality at all times. All Paranormal Investigations are conducted in a professional manner and treat all artifacts and property with respect. They are proud members of the
ParaHaunt Paranormal Family Network.