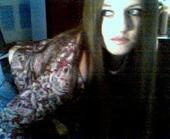 Debbie first came to the ParaHaunt group as a client who needed help from an entity which was dwelling in her new home. When no one would come to answer the call, ParaHaunt boldly took up the case and released the entity. Ever since that day, after witnessing what occured there, Debbie had become a believer in ParaHaunt and has tried to learn from the group as much as possible. Debbie has already been blessed with the gift of "Empathy" which brings a unique flavor to the already talented team of investigators.
As Scott, Founder of ParaHaunt, has done for so many other investigators in the past, he is helping her develop her skill and gifts in the hope that Debbie will take her place as a regular investigator for ParaHaunt.
Debbie has 4 kids of which 2 of them seem to display signs of having the gift of "Empathy" as well. She would love to become a full core member of ParaHaunt and is working to become just that.